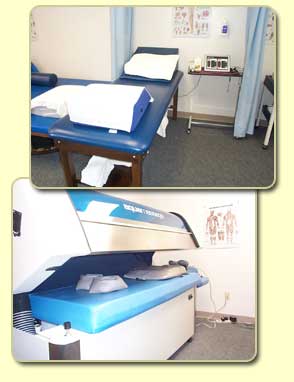 Offering full service outpatient physical therapy. Fully staffed licensed P.T., P.T. Assistant and P.T. Technician and R.N.
Aqua Massage
Specifically designed for medical facilities utilizing physical medicine and rehab equipment. Aqua massage provides benefits of hydro therapy (dry), dry heat therapy and accupressure/percussion therapy. It increases circulation andrange of motion and reduces muscle spasms.
Synaptic 3200
Provides state of the art electro therapy pain relief. It is a user-friendly, noninvasive pain control device that brings excellent results. The Synaptic 3200 plays a significant role in decreasing acute/chronic pain, allowing patients to return to full activity in a shorter time period.
ULTRA IV
Ultrasound electrotherapy treatment system provides either independent ultrasound and electrotherapy treatment or combination treatments. ULTRA IV is equipped with 8 leads which enable the therapist to treat multiple areas at one time (for example: injured knee, back, neck, etc simultaneously).

Wellness Program
For community members and patients. Fully equipped with treadmills, free weights, customized exercise programs, etc. All former patients receive one full month of wellness free.
Only $25.00 per month, no membership fees or start up fees.
$20.00 per month for seniors.
All wellness members are supervised by certified trainers.